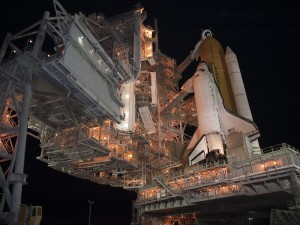 By ThinkReliability Staff
NASA's plan to launch Discovery on its final mission continues to face setbacks.  As discussed in last week's blog, the launch of Discovery was delayed past the originally planned launch window that closed on November 5 as the result of four separate issues.
One of these issues was a crack in a stringer, one of the metal supports on the external fuel tank.  NASA engineers haven identified additional stringer cracks that must also be repaired prior to launch.  These cracks are typically fixed by cutting out the cracked metal and bolting in new pieces of aluminum called doublers because they are twice as thick as the original stringers. The foam insulation that covers the stringers must then be reapplied.  The foam needs four days to cure, which makes it difficult to perform repairs quickly.
Adding to the complexity of these repairs is the fact that this is the first time they have been attempted on the launch pad. Similar repairs have been made many times, but they were performed in the factory where the fuel tanks were built.
Yesterday, NASA stated that the earliest launch date would be the morning of December 3.  If Discovery isn't ready by December 5, the launch window will close and the next opportunity to launch will be late February.
NASA has stated that as long as Discovery is launched during the early December window the overall schedule for the final shuttle missions shouldn't be affected.  Currently, the Endeavor is scheduled to launch during the February window and it will have to be delayed if the launch of Discovery slips until February.
In a situation like this, NASA needs to focus on the technical issues involved in the repairs, but they also need to develop a work schedule that incorporates all the possible contingencies.  Just scheduling everything is no easy feat.  In additional to the schedule of the remaining shuttle flights, the timing of Discovery's launch will affect the schedule of work at the International Space Station because Discovery's mission includes delivering and installing a new module and delivering critical spare components.
When dealing with a complex process, it can help to build a Process Map to lay out all possible scenarios and ensure that resources are allocated in the most efficient way.  In the same way that a Cause Map can help the root cause analysis process run more smoothly and effectively, a Process Map that clearly lays out how a process should happen can help provide direction, especially during a work process with complicated choices and many possible contingencies.